ASUS 4G-N12, 4G LTE mobile broadband, up to 300 Mbps Wi-Fi connections
ASUS 4G-N12,
4G LTE mobile broadband,
up to 300 Mbps Wi-Fi connections
4G-N12
ASUS 4G-N12, 4G LTE mobile broadband, up to 300 Mbps Wi-Fi connections
Description
4G LTE mobile broadband for super-fast internet speeds up to 100 Mbps
Wireless-N speeds up to 300 Mbps for reliable Wi-Fi connections
Built-in dual-WAN connection for flexible home and office connectivity
Dual-purpose wired LAN/WAN Ethernet port
Sophisticated firewall protects against common web attacks and provides user access control
Plug-n-Surf! Easy to setup and use
Unleash your internet with ultra-fast 4G LTE!
ASUS 4G-N12 is no ordinary Wi-Fi router. Just insert a 4G LTE SIM card and its built-in modem connects to the internet wirelessly via super-fast mobile broadband. You can enjoy up to 100 Mbps downloads and 50 Mbps uploads, with no worries about USB dongle compatibility. And thanks to the wide coverage and 300 Mbps speed of 802.11n Wi-Fi, you can enjoy the 4G LTE internet connection all around your home or office — perfect for those in locations where 4G LTE speeds are faster than conventional ADSL or cable broadband. Convenient and cable-free, 4G-N12 will give you smoothly-streaming HD videos and fast file sharing anywhere. It can even connect to a cable modem to give a second internet connection for backup!
3.5X Faster 4G LTE speed
With 4G-N12, you'll appreciate the blistering speed of the latest 4G LTE mobile broadband technology, especially if you live out of reach of conventional broadband. It's capable of up to 100 Mbps downloads and 50 Mbps uploads — that's 3.5X faster than HSPA+ and twice as fast as DC HSPA+!1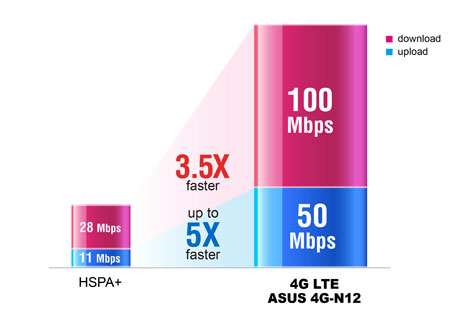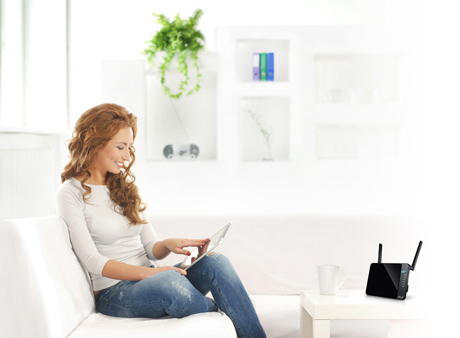 Cable-free 3G/4G WAN and 300 Mbps Wi-Fi
Enjoy the cable-free convenience of 4G LTE mobile broadband! 4G-N12 has a built-in SIM/USIM card slot that lets you share a mobile broadband connection via 300 Mbps Wi-Fi anywhere in the home or office. Surf the web, download apps, stream media and more — with no messy cables!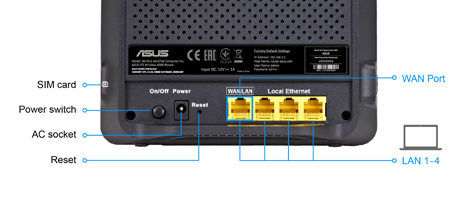 4G LTE and Ethernet dual-WAN support for interruption-free connections.
In addition to its 4G LTE capability, 4G-N12 has a dual-purpose Ethernet port that works either as a backup wired internet (WAN) connection, or as one of the four wired network (LAN) ports. This gives superb flexibility for business or home use — you need never be without an internet connection
Advanced multi-layer security
With 4G-N12 your home network is protected by a multi-layer security system.
MAC filter: Allows you to block one or more devices based on their MAC addresses.
Access control: Control the level of network access granted to any network device, for example blocking certain ports or internet services.
Keyword filter: Block access to undesirable websites based on keywords and apply these restrictions to specific network devices

2

.
Advanced firewall: Firewall with Stateful Packet Inspection (SPI) protects against common web-based attacks and threats.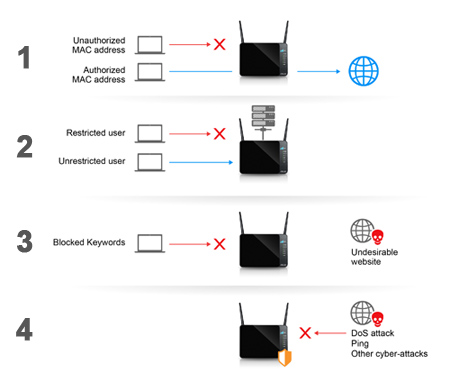 Easy 3-step Plug-n-Surf
It only takes three steps to get connected with 4G-N12:
Insert your 4G LTE SIM or micro-SIM card (not supplied) and turn on the 4G-N12. It will connect automatically to the appropriate mobile network.
Open a browser and follow the easy installation wizard to complete the setup.
You're connected!

ASUSWRT puts you in control
With the easy-to-use ASUSWRT user interface, it's easy to configure all 4G-N12's advanced functions. It also has simple tools to keep tabs on your data allowance and actual usage, check what devices are connected to the network, configure user access controls and much more – all via an intuitive point-and-click graphical menu.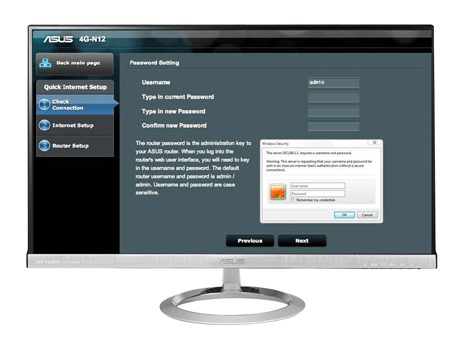 If there is no available LTE or UMTS mobile signal, you will need to connect to the internet via a separate DSL or cable modem (not supplied).
Keyword filtering does not support blocking of SSL-encrypted (https) websites.
Keep Up to Date!
Remember to always keep your device's firmware up to date so you can benefit from the very latest service and security enhancements — and get exciting new features! Learn more about updating new firmware.
Reviews
No customer reviews for the moment.